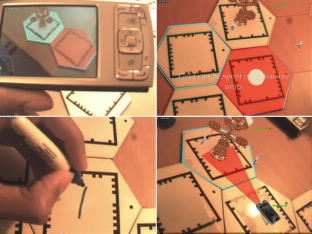 Recent advancements in mobile processors (CPUs and GPUs) have enabled researchers to explore 3D augmented reality applications on handheld devices. Art of Defense (AoD) is a novel AR game for a commodity phone (the Nokia N95). The goal of Art Of Defense is to explore game design and interaction techniques that are well suited to mobile AR on a small screen device. One principle guiding AoD is to uses the phones limitations as part of the game itself; in this case, designing assuming the player has a limited view of a larger game space.
AoD is based on two core mechanics that well suited to handheld AR: dynamic multi-marker map building and sketch-based interaction. Both mechanics encourage physical movement by the player and tangible interaction with the game pieces, which are two key differentiators between AR games and other phone-based games. The dynamic multi-marker building technique not only enhances and encourages movement by the player, it enables the game to be mobility and portable because the gameboard is disassembled when not in use. By requiring the player to sketch on the erasable game tiles (where are also laser-engraved with markers), our game is very tangible and enhances the content relationship between the physical and virtual worlds.
AoD also demonstrates a new type of AR exploration game, where the player controls what parts of the space they will, and can, explore.
Click here to view a video of the game.