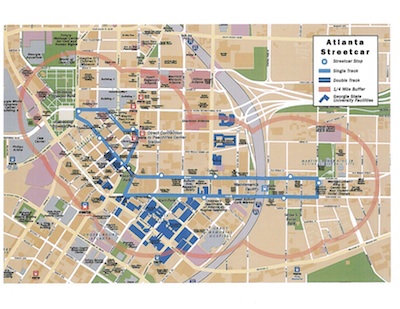 Jay Bolter, Nassim JafariNaimi, and students from the AEL are developing a suite of media experiences to introduce visitors to the rich cultural and economic history of Auburn Avenue. From about 1900 to 1960, Auburn Avenue was the center of African-American cultural and economic life in the city. The street also played a key role in the civil rights movement. From the 1960s on, the street suffered decline, and the local community disintegrated because of a range of social, economic, and urban planning factors. In recent years, however, the community has been the focus of revival efforts with attractive apartments and homes at its eastern end and increased economic activity along its more blighted corridor. In 2014 or 2015, a new streetcar line promises to bring even more tourists to its main attractions: the Martin Luther King Visitors Center, King's birth home, the Ebenezer Baptist Church, and the King Memorial. Sweet Auburn was designated a National Historic Landmark in 1976. We are working in collaboration with Central Atlanta Progress and the History Preservation Division of the Dept of Natural Resources of the State of Georgia to bring this history to thousands of visitors and residents through an integrated integrated media strategy. Our media strategy centers on a prototype of a mobile app using the Argon browser. This will be supported by web applications that can run on other mobile devices as well as a web site.
The content types and features that we will explore include:
a. audio, images and text delivered on location at places of interest along the avenue.
b. panoramas and historical photographs to depict the visual history of Sweet Auburn.
c. informative texts to replace or complete existing physical signage;
d. forms of interaction that trigger the delivery of these images, audio, and text: for example, when users walk down the street, GPS tracking can tell the phone when to play certain audio or show certain images.
e. links to social media so that visitors can record their experience of the tour of the avenue for friends or for their own later use.
Our ultimate goal is to ensure the broadest possible class of visitors and web users to have a satisfying and informative experience of Auburn Avenue and make sure that the digital media application is a successful and sustainable informational companion that supports the preservation and revitalization efforts in this area.