Installation
Our AR enabled Second Life client is compatible to the main Second Life infrastructure and can be installed using the original installer.
Hardware Requirements
Fast PC with current Nvidia graphics card
One Video Camera, either with DV output or a USB/Firewire Webcamer with at least 30fps
Spatial Registration (Tracking)
Setup
One premise of Augmented Reality is the knowledge of the exact location and orientation of the real camera. With this information, the virutal camera can be correctly aligned to superimpose the virtual graphics.
So far, two different Trackers are supported – InterSense and ARToolkitPlus. Both trackers are supported via the VRPN interface. To get these trackers working, they have to be setup in the preferences panel of Second Life. The InterSense tracker requires less settings, since most of the it's setup is done in a dedicated software from the manufacturer.
ARToolkitPlus uses optical tracking and detects the position and orientation of special rectangular black&white fiducials in a video image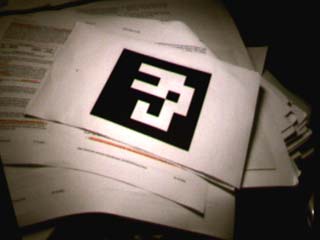 Every fiducial has a unique pattern which identifies its number. Before the use, several fiducials should be downloaded  and printed out. The print size depends on the applications. 10 cm are reasonable for close ups, the further away the camera, the bigger a fiducial should be.
A special XML file specifies which markers, with what size, will be used by the application. Each tracker input is bound to a so called Sensor. The virtual camera is bound to a sensor, so can be other in-world objects. A special in-world tool, looking like several fiduials, contains notecards with common setups. On each visit of the AR Stage the values can be re-loaded by clicking on the object. The notecards also contain comments, it recommended to read them.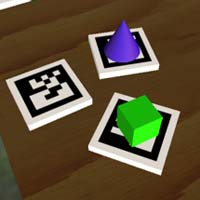 The settings for coordinate transformations, Scaling and others, can be set in the preference dialog, but should then be saved in a the AR Tracker in-world tool for future retrieval.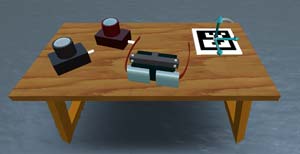 The ARToolkit also relies on a camera calibration file, which is specified in the AR Cameras tab of the preferences dialog.
Enable tracking
First the origin in Second Life has to be set. Touch the AROrigin object, or touch the workbench. Then activate tracking in the Augmented Reality menu.
An overview over the usage in provided in this Quicksheet